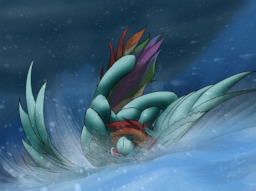 There is something you need to know.
When you go out there inflicting harm to yourself, you're harming me as well. Sometimes things don't go how you'd like them to go, it's a part of life. Eventually, we move on, learn from our mistakes and accidents, and hold our heads high.
Nopony is perfect, and you have nothing to prove to me, or anypony else.
I love you just the way you are.
Originally written for the Twidash 3.5 Competition found here.
Winner of the Rainbow Dash group contest found here
Proofreading and editing done by my lovely friend Bookish Delight
Art by JinYaranda which can be found here.
Chapters (1)