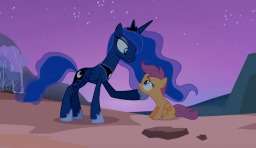 An accident leaves Scootaloo fighting for her life, and while everypony tries to offer what help or comfort they can, a few may just learn something new: exactly what it means to be a sister.
Featured on Equestria Daily!
Thanks to a number of people who helped review this, including Logician, Ion-Sturm, Vimbert the Unimpressive, samurai anon, Present Perfect, and Chris.
Chapters (1)