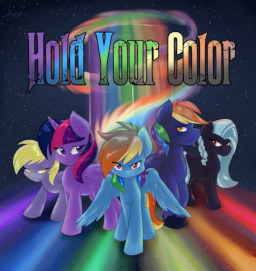 Source
This story is a sequel to Dreams and Disasters
---
Rainbow Dash has a new problem.
It isn't that her relationship with Twilight Sparkle has diminished in the year that they have been together, even despite Twilight's new position as an Equestrian Princess. If anything, the past year has brought them closer together than before. As far as Rainbow Dash is concerned, her life is pretty much perfect. That is, until she notices that her colors are fading.
In a panic to discover what is happening to her, she stumbles headfirst into an ancient secret dating back to long before the formation of Equestria, with her family in the middle. With Twilight and her friends, both old and new, at her side, she will once again venture out into the wide world of Equus, not for love, but for answers. About her family, her heritage, and the theft of the oldest artifact known to pony kind: The Celestial Prism.
---
Takes place canonically shortly after the Season 3 finale and well before the Season 4 Premier
Chapters (29)