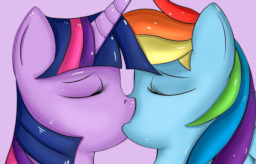 Ponyville is being utterly obliterated by Twilight Sparkle, or at least somepony who looks exactly like her. She wakes one morning to the devastating sight, somehow having lost her voice and her ability to use any magic. With no way to convince any one that it's not her causing the destruction, she is callously sent away by her impostor to face her doom. Suffering through immense turmoil and emotional pain, will she finally find her ultimate savior not within herself, but within Rainbow Dash?
What will become of Twilight and Ponyville? Will the impostor Twilight stop only at Ponyville, or continue to go for a much greater target? And are the impostor's motives really as sinister as they appear to be?
--This is my contest Entry for Blundy's TwiDash Framed Challenge-- Completed.
Many thanks to a thorough and helpful contributor--> Senyu
Thanks also to my helpful prereader/proofreader/editor--> LightningBass94
Chapters (14)