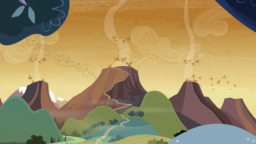 "To him, I was a way to reconcile his duty with his conscience. To me... he was someone to talk to at a time when I had no-one." -- Princess Celestia
Lord Ragnarok, newly crowned King of the dragons, stands upon a hill overlooking the country of Equestria, an army at his command. Princess Celestia is urgently roused from sleep with a dire warning of impending attack. Thus begins a chain of events that would bring together two of the most powerful rulers of the age, and forge the unlikeliest of bonds. One that would bring salvation to one, and solace to the other.
"I won't call him an enemy, and he won't call me a friend. Make of that what you will."
A precursor / companion piece to Eclipse.
Chapters (5)