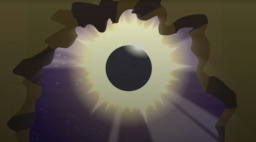 A recurring nightmare convinces Luna that, since her return, she has never regained her sister's complete trust. And at the forthcoming Festival of the Eclipse, she decides to make amends with a bold gesture.
But Luna's solution causes consequences she never anticipated. Consequences the whole world will feel. Now, Celestia and Luna must set forth on an adventure that will take them even into Tartarus itself, and set everything right before it's too late.
And if they're lucky, they'll rediscover the trust they once had a thousand years ago.
Chapters (13)