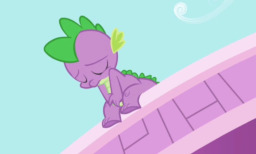 With Twilight away in Canterlot, Spike is left to his own devices. But Ponyville isn't the busiest of towns and before long, boredom begins to creep.
So to cheer himself up he decides to go spend time with his friends. Five stalwart companions whom he has known through thick and thin.
But Spike soon begins to realise that really, those are Twilight's friends. Not his.
In fact he starts to wonder whether, since he moved to Ponyville, he's actually made any friends at all...
(*2nd edition. Based on feedback, the final chapter and epilogue have been added-to to better reflect the contributions of the CMC.)
Chapters (6)