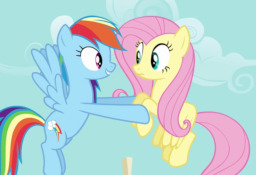 Every week, Rainbow Dash and Fluttershy play a game. And every week it's the same, predictable result.
Fluttershy doesn't seem to mind. But when she confesses that she doesn't really understand why winning is so important, Rainbow Dash's world almost explodes. Now Dash is on a mission. Not only to explain to her friend why winning is so awesome, but to prove it too. Because by the end of the day, come hay or high water, Fluttershy is going to win something!
Fluttershy just wants to play their game together next week, like always.
A story of two ponies and their friendship, past and present. Of winning and losing, the games we play and why we play them.
Chapters (6)