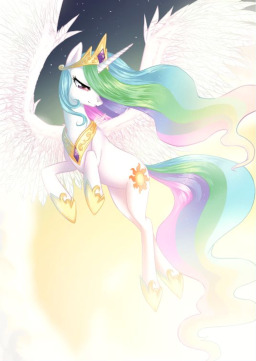 Source
"One day, I swear to you, I will stand in the ashes of the Elements of Harmony themselves and proclaim a new world." -Starswirl the Bearded.
This is the story of Princess Celestia: her origin, the battles she fought, her betrayals, her adventures, the friends she made along the way, her one great love, and her ultimate destiny.
Now on Equestria Daily!
[Thanks to _Medicshy for his faithful editing and input. And to Heliostorm as of chapter 13.]
[Cover image by tamponandtwilaloop on deviantart, used by permission.]
Warning: updates irregularly lately.
Chapters (14)