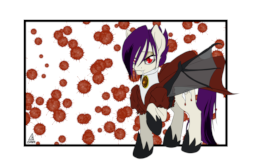 The Elements of Harmony have been utilized to defeat Equestria's most powerful enemies, beings such as the dreaded Nightmare Moon and the trickster god; Discord.
But, what if they could be corrupted or changed to the whim of others?
These are the thoughts that cause Marissa Shadowmane to enact her plan of forcing Rainbow Dash to join the ranks of the undead.
Image by Phlar1245 at deviantART
(Used with Permission)
Chapters (1)