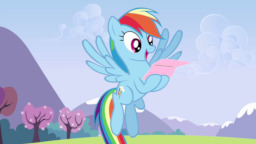 Rainbow Dash receives a love letter from a secret admirer, and isn't quite sure how to take it. What kind of pony sends stuff like this? Why can't they just tell her to her face?
Thunderlane, meanwhile, isn't sure starting this game was the smartest of ideas.
---
The (extremely short) original version of the story, which became the first chapter of this one, was written for The Writeoff Association's January 2015 contest, "All In"
Chapters (4)