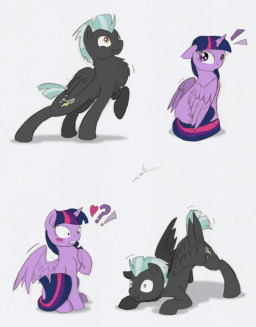 Source
Twilight goes with Rainbow to watch her race in Cloudsdale only to suddenly find herself being 'wooed' by Thunderlane.
---
Saw the cover art and decided to make a story around it with permission from Ravenpuff
9/6/14 Featured!
I don't really know the meaning of this. I was going for a minimum length little thing because I saw the cover pic. Then it gets featured. Maybe it means I can die peacefully now. Except people want me to write more. Dunno what to do with my life anymore.
Many suggestions later. *Dramatic sigh* I suppose I'll switch this to incomplete. :)
YouTube reading by Captain Bron3y!
New chapters edited by the fantastic AnonponyDASHIE
Chapters (2)