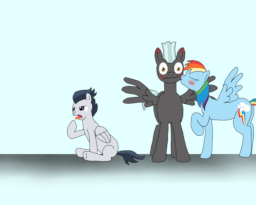 Source
Rumble catches his brother's girlfriend, Rainbow Dash, in their kitchen one morning while his parents are away and his brother is staying over to watch him. Rainbow decides to use this as an opportunity to get to know the little colt better. Unfortunately for her, Rumble wants to talk about her relationship with his brother.
This takes place in the same universe as my other fic, Come Fly with Me, but this happens a few years before that fic.
Special thanks to Allonso Bronyguy who did the cover art and edits.
Chapters (1)