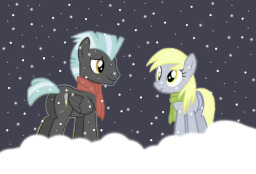 When Rainbow Dash makes some changes to the Ponyville Weather Crew's weekly team meetings and implements a snack duty rotation, a certain clutzy pegasus finds herself with some major problems -- The main one being the fact that she can't cook to save her life.
With her scheduled snack date fast approaching, poor Derpy has no clue what do, other than fail miserably and get laughed at, as per usual.
Fortunately, it's Thunderlane to the rescue!
Author's note:
This is my first ever finished Pony-fic and I'm excited about it. However, I'm the only one who proofed it, so if you find any mistakes or errors, please don't be shy about telling me! I love comments in any form.
Also, this did not start its life as a shipfic...But somehow became one anyway.
Anywho, enjoy!
Chapters (2)