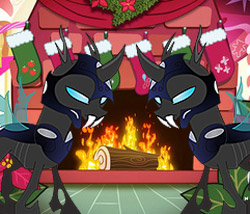 Stress levels were already high, with Twilight directing her first royal Hearth's Warming pageant and unexpected snowstorms escaping the Everfree. Then the changeling army arrived.
Now, with Queen Chrysalis holding Ponyville hostage and the clock ticking on suspiciously pointless negotiations, it's up to Rarity to match wits with the invaders and save the holiday. However, as she digs ever deeper into the queen's tangled plot, what she learns could force her to choose between her friendships and her conscience.
Off-season note: This is a Hearth's Warming story like Die Hard is a Christmas movie (but with espionage instead of explosions). Don't skip it just because the holiday's over.

---
Critical praise:
"A high-tension thriller where nothing is what it seems." — Titanium Dragon (rating: "Highly Recommended")
"An entertaining ride from start to finish … watching all the pieces fall into place is fantastic." — Present Perfect (rating: "Highly Recommended")
"Props to horizon for an intricate web of deception. Most writers have difficulty with crafting mysteries … this one, however, had me completely fooled from beginning to end." — PaulAsaran (rating: "Why Haven't You Read This Yet?")
Second-place winner in the "Behind Closed Doors" December writeoff, now expanded and revised! Featured on EqD! Rated "Recommended" by MLPmatthewl419!
Big thanks to Titanium Dragon for post-Writeoff editing assistance.
---
Comments contain spoilers!
Chapters (3)