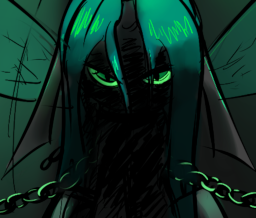 Source
Queen Chrysalis has won! Canterlot has fallen to the Changeling army and there's no longer anybody who can stand in the way of her armies! One problem, though... the Queen isn't exactly in control anymore.
One ex-human will have to deal with one enraged voice in his head, three angry princesses just outside, and all the issues that come with controlling a city you just conquered with an army of insectoid shapeshifters.
On the bright side... well, at least the new body is large and in charge?
Chapters (2)