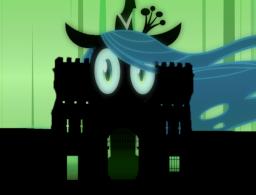 A lawyer doesn't always want to know what really happened. It's a tightrope walk. Whether or not the lawyer believes in his client's innocence is not the issue. It's his duty to defend his client - no more and no less.
— Ferdinand von Schirach
Proofreading done by Dancing Mop, Sevenofeleven, Setokaiva and N4.
Credit for many images goes to N4.
Now also featured on TvTropes.org!
Nearly one year has passed since Australian pilots discovered Equestria in the middle of the Indian Ocean.
Now the world watches in awe as, with the Princesses' blessings, one of the most ferocious and dangerous tyrants of the equine world - none other than Chrysalis, the Queen of all Changelings - is marched before one of the highest courts of law of the human world - the International Criminal Court in The Hague, the Netherlands.
But the Queen is wrathful and determined, still one of the planet's single most powerful creatures.
How can mere humans, who know next to nothing of her mystical home, achieve justice for the Equestrians?
Alexander Estermann is a conceited defence attorney who will have to wade through a quagmire of vengeance, racism, manipulation, lies, hearsay and self-deception to get to the core of the affair.
Seemingly the whole world is working against him - up and including the Queen herself.
Rated teen for liberal swearing and gore for minor gory descriptions and pictures.
Disclaimer: This is not a story that is meant to reflect reality. Several things about international law have been changed to accomodate the scenario and make it, well, readable. If that should offend you for any reason, I wish to apologise in advance.
Chapters (38)