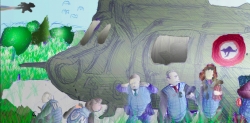 It is the year 2012. When military pilots discover a previously
uncharted Bermuda triangle-like area in southern Oceania, a cordon around
the area is established.
Soon it is noticed, that inside the cordon, there is a large, isolated and
utterly undiscovered land mass. And it is inhabited, too.
The UN, upon realising that the inhibitants' civilisation seems to be
highly advanced and organised, decides to send a diplomatic mission to
make a proper first contact, and to achieve a peaceful cooperation with
the rest of the world. Had they only prepared both sides properly, they
may have not have had the risk of a full scale war...
This Fanfic will be posted in form of two... no, four scenes per week.
It is, as it heavily relies on dialogue, kept in form of a piece of theatre, (with music cues and all). Please don't judge too harshly, it is my very first piece of Fanfiction, as well as a Pilot (as I will most probably post sequels to this to flesh out side characters). Please leave lots of feedback in your comments on what I can possibly improve. You'd all be really helpful.
Enjoy.
Chapters (20)