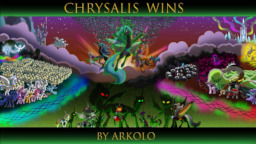 Source
In this verse Chrysalis successfully takes over Canterlot, however this hardly ends her venture. In fact, it is just the beginning. For becoming the ruler of Equestria is anything but a smooth ride. She will have many obstacles and opponents to overcome, difficulties that the royal sisters or element bearers would otherwise have faced ...
edited by The Fan Without a Face
NOTE- I began this story early into season 5, accordingly much of the changeling lore in this story won't match details shown in Season 6 and beyond.
Chapters (72)