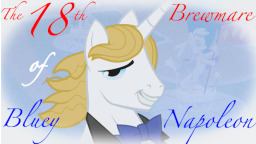 Source
In his influential analysis of the coup d'etat that would become known as the Rutting Revolution, Curly Marks wrote that history repeats itself — "the first time as tragedy, the second time as Prince Blueblood."
Marks actually used other words in place of the name, but this is a family-friendly publication.
* * * * *
This story is a sprawling literary mash-up of Prince Blueblood, the French Revolution, linguistic homicide, male suffrage, Prince Blueblood, educational blackmail, epically bad puns, and Prince Blueblood. Also a story about how to be a hero when you're rotten to the core. But mostly, Blueblood.
First-place winner of the "History Repeats" writeoff * Featured on Equestria Daily
"Highly Recommended (Top 15 Stories)" by Titanium Dragon * "Highly Recommended" by PresentPerfect * Rated "Definitely Read This" by Super Trampoline
"★★★★" from Louder Yay * Other word of mouth
Chapters (3)