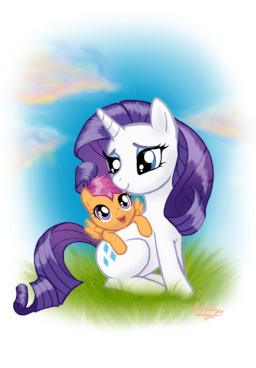 Sweetie Belle burst into the Carousel Boutique in tears because one of her best friends is moving to a foster home in Baltimare. Surely there has to be a pony in Ponyville who can be her foster parent, right?
I'm lucky to have two of my favorite, (and also way underrated authors) on this site pre-reading for me, HMXTaylorLee and DemonBrightSpirit. Their work is seriously excellent and unappreciated so go check them out.
My super awesome cover art was done by hugsforpenguin and commissioned by the aforementioned HMXTaylorLee, so another thanks to him.
This story takes place in an Alternate Universe where Quills and Sofas sells more than two things.
Chapters (28)