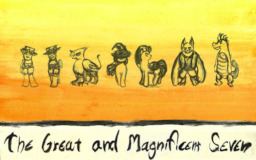 Lapis-Lazuli Proudly Presents...
In the far southern regions of Equestria, where the rule of the Sun Princess runs thin...
There is a town under siege, held in the iron grip of a tyrant.
Poor, desperate, and defenseless, the citizens turn to a band of unlikely heroes.
They come from all walks of life, each seeking something, each running from something.
And in this little town, far from the eyes of the great and powerful, these seven outcasts will come together for a job that will change their lives forever.
Based on John Sturges' "The Magnificent Seven" and Akira Kurosawa's "The Seven Samurai"
With thanks to TheGreekOwl for his cover art.
Chapters (4)