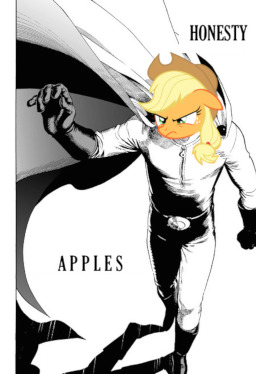 Applejack is just an average mare living the life of an average hero in Ponyville. She has her friends, her family, and her daily routine, and that's just about she'd care to ask for. But when the going gets rough and a nightmarish leviathan of the Underworld or two ruins all her best-laid plans, there's problem she can't solve and no foe she can't overcome with a good, strong buck.
No, seriously. Absolutely anything. Just one buck.
Shamelessly based on Onepunch-Man, a manga about a superhero who defeats all of his enemies with just one punch. Tagged incomplete because I'll probably continue to add additional stand-alone chapters periodically/whenever I feel like it.
Chapters (1)