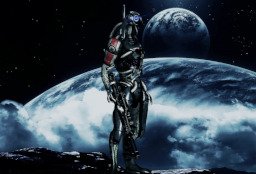 Source
Now with an amazing YouTube reading by the equally amazing AShadowOfCygnus!
---
During its two year search for Shepard, the lone Geth traveled across the galaxy, exploring worlds both known and unknown. After a blind FTL jump to escape from an Alliance patrol, it found itself in a previously undiscovered system, a system without a mass relay and completely cut off from the rest of the galaxy. It touched down on one of the worlds, a garden-like planet, with the intention of gathering data on any flora and fauna that may have been present.
Instead, it made a remarkable discovery.
---
Edit at 8:10 AM on 8/17/2014: Scanning...Featured Box Achieved! This unit humbly thanks all organics and fellow synthetics for their support!
---
A big thanks to my bloody brilliant proofreader AShadowOfCygnus. Don't stop being classy, buddy.
NOTE: This story takes place years before the Return, back when Twilight was just a filly.
Disclaimer: I own nothing.
My Little Pony: Friendship is Magic belongs to Hasbro.
Mass Effect belongs to BioWare and Electronic Arts.
Chapters (5)