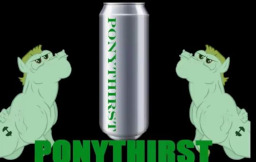 It was a bright, sunny peaceful day, only to be shattered by the raw power of pure, unbridled energy. The ponies then experience the glory of the most powerful beverage in all of existence.
Whether they like it or not.
---
Proofread by AShadowOfCyngus and Obsidian Rose.
Image made by HamMan6789.
Disclaimer: I own nothing.
My Little Pony: Friendship Is Magic belongs to Hasbro.
Powerthirst belongs to picnicface.
Chapters (1)