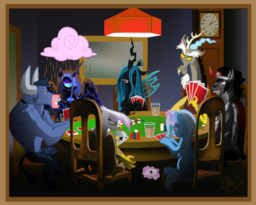 Source
The Discord Association for the Reformation of Villains, Evil Doers, Rivals and Ne'er Do Wells is a support group founded by the God of Strife himself to help former criminals, monsters, enemies of Equestria, and general enemies of the peace reform and reintegrate into society. They haven't been around for long, but there are high hopes for the project.
Twilight Sparkle has been asked to attend, and she has no idea why.
Written for and Honorable Mentioned in the EFNW Fanfiction Contest
Edited and Preread by the Estimable SoloBrony, Pwnego, and The Wizard of Words.
(I wanted to add a Sad tag but apparently wistful or sad comedies are just not things that exist on Fimfiction, so be warned.)
Chapters (1)