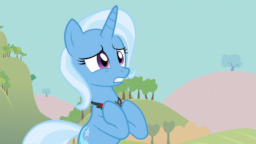 Source
The Accursed Alicorn Amulet. An item of great power, capable of giving any pony wearing it the power reserved only for alicorns. The power of a god among mortals. All of that, only at one price; your sanity.
Not an easy decision, isn't it? Sure, a mind is something precious and all that, but the temptation of having such a power can be too much for certain ponies. It was too much for Trixie, and she fell for it. It's a good thing that Twilight Sparkle managed to save her from a life of insanity.
But, what would happen if Trixie's sanity wasn't the only price to pay? What else could the Amulet take from Trixie?
Co-written with nightwalker
TV Tropes page (Oh my God, it has a TV Tropes page!)
Reviews and Editorials
Chapter 1's Live Reading
Chapters (28)