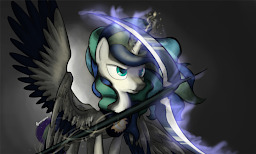 This story is a sequel to We Fight as One
---
Three months have passed since Discord turned against the princesses. Three months have passed since both Luna and Celestia disappeared from existence.
Three months have passed since Princess Eclipse was born.
After finally defeating Discord and bringing peace back to the land, the fused alicorn sisters live alongside her subjects, ensuring that the calm and free feeling stays over Equestria. But no matter how hard one may try, peace will only last for so long.
The great Gods of War have broken free of their prison, and threaten to take back the world which they once ruled. What is their connection with Discord? And will Eclipse be strong enough to fight all of them?
Note: No events of season 4 have occurred in this timeline.
Part 2 of the Eclipseverse
Chapters (2)