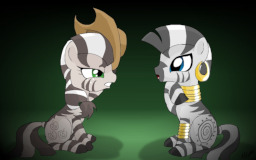 Source
When Applebloom falls sick, Applejack asks Zecora if she can help. Unfortunately, Zecora needs to go back to her homeland to gather unique ingredients for the cure. Not wanting her to face the danger alone, Applejack insists she comes along. The land of zebras, though, only accept their own kind. So, what do they do?
This is not a sequel to 'Striped Like Me'.
Artwork credited to Alfa995.
Chapters (20)