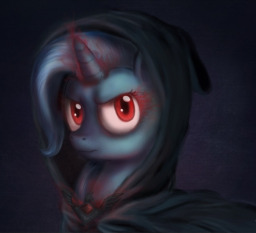 Trixie has gone through everything in her life.
Fame. Ostracized. Hatred. Suffering. Despair.
Now, she has returned to Ponyville to extract her vengeance on the pony that caused her life to spiral downward. To make that pony feel the same emptiness the she'd been subjected to ever since their last encounter; Twilight Sparkle.
Will Twilight be able to protect her home from a pony who is hell-bent on destruction? A pony who's heart has been so damaged?
co-written by Dainn and TheMyth
----------------------------------------------------------------------
While beginning as an alternate take on the episode magic Duel, the story is not a simple retelling. The entire storyline and key plot points have changed.
Chapters (3)