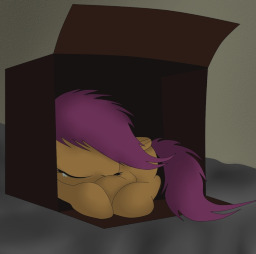 Source
Scootaloo is just a lonely filly living on the streets of Baltimare. After the tragic loss of her parents, she spends her days trying to survive on her own. Nobody will take her in, and she struggles to find a good place to rest each night. It is a bleak existence for her, one that she feels she will never escape from.
But when a passing cart drops a small package in front of her cardboard box, will she find something that will bring some light into her life?
Proofread by PhiliChez and DustyPwny
Cover art by IDSmehlite with permission for this fic.
Story is inspired by this video by SourceRabbit0
Chapters (1)