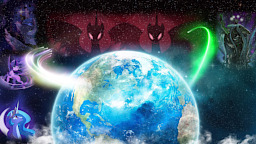 When Princess Twilight Sparkle's years of research and study comes to its fruition, and a portal to another world is finally opened, a team of ponies is selected to go through. But as they go through, some strange creature comes through, and the exploration team finds itself trapped on an alien world that proves to be much more dangerous than they could have known.
In Equestria, Twilight now must find the way to reopen the portal, and to find out just what happened to the team she sent through. But how do you communicate with something that is completely foreign to you?
And others want to possess this creature as well. They feel that it could be the key to power. Power enough to take control of Equestria, as well as the world from which it came from.
Will Twilight be able to learn what she needs to learn to save her trapped friends, and keep this creature alive, so that it may return home?
Will she be able to bring the team back, or will they be doomed to die on a hostile world?
Chapters (3)