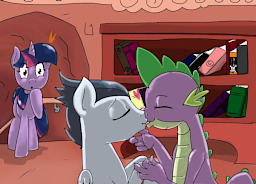 Source
Upon arriving home from a trip, Twilight is shocked to find her teenaged little brother Spike kissing Rumble, a male pegasus. Spike has no choice but tell Twilight a secret that she herself never saw coming.
He's gay.
Thanks to Kill Joy for the cover
And Goombasa for the dramatic reading.
Chapters (2)