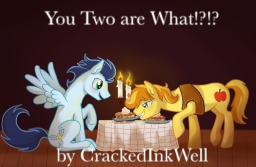 Source
Applejack's cousin, Braeburn Apple, writes her a letter for her to come to Appalossa as quickly as possible but it doesn't tell her why. So assuming the worst, she ropes in her friends to come with her as a backup.
When they get there, not only is Braeburn fine, but Soarin is also there too. Why?
---
A friendly warning: this story is contains M/M shipping, if you don't like either or both of those, you all know where the exit button is.
This is my present to all of you guys before I have to go on vacation with my family. Consider this as a kind of weird Christmas present.
Happy Holidays everyone!
Your grateful storyteller,
-CrackedInkWell.
---
A special thank you to SecretBrony01 for proofreading this story.
Chapters (1)