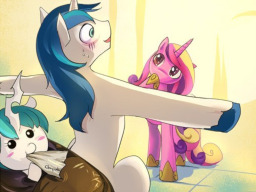 Source
Shining Armor awakens one night to find a baby pony/changeling on his doorstep. A baby that is apparently his as well as Chrysalis's. Can he keep Cadance in the dark? Can Twilight help him? Is the queen changeling herself going to make an appearance? How many OCs will there be? Will everypony be in character? Who will cameo? And most importantly, was he technically cheating?
Read and find out.
---
Sequels contain spoilers. As in you will spoil the twist if you even look at the sequel.
I see you scrolling down. Stop that.
---
Editors: All of you!
Oh and SmilingKittens
Chapters (11)