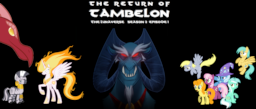 A long, long time ago, the necromancer Grogar conquered the city of Tambelon for his own nefarious purposes. Working together, the princesses Celestia and Luna were able to banish Grogar and the fallen city into the realm of Shadow, never to be seen again...or so they thought.
Two thousand years later, Tambelon and Grogar return - and the world may never be the same...
A Lunaverse story, and the premier of Season 2!
Corona Rises!
Chapters (14)