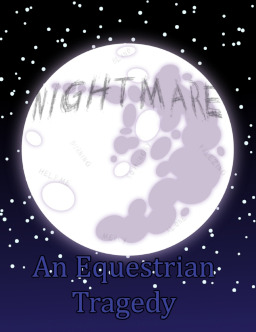 Source
[First Person] [Alternating Perspectives]
During a long and boring night, devoid of any ponies seeking to petition the Night Court, Lyra Heartstrings asks Luna a question. "Why did you become Nightmare Moon?" Luna answers her question, starting from the very beginning, recounting her long life of rejection, failure to achieve her goals, and marginalization. For the first time, someone besides Celestia gets to know the full story of Nightmare Moon.
---
Yet to be featured. But I know we can do it!
---
For my fan's convenience: This story takes place in an alternate timeline of the Equisverse. No storyline beyond that of The Bridesmaids, Horseshoes, Dinner at Ravenloft, The Queen is Dead, All Hail the Queen, and Lyra-7% happens or will happen in this timeline. However, some world events, elements of the setting, and concepts from other works of mine apply, but this only pertains to foundational concepts such as thaumaturgic current. This is the more "serious" timeline.
Chapters (10)