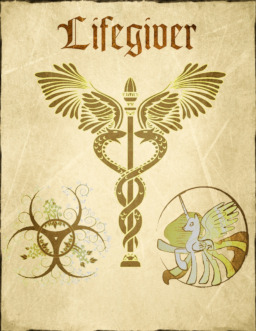 Source
This story is a sequel to The Queen is Dead
---
[First Person] [Alternating Perspectives] [Equisverse Era 1]
After becoming famous for his medical skills at the the Second Badlands Battle, Azur (better known as Lily) is determined to establish a new life for herself in Equestria. Unfortunately, the young unicorn has no idea what to do with their newly found freedom. Having lived under the crushing heel of abusive parents and extremely strict scholastic standards, the freedom to choose what to do and when to do it is something entirely new for Lily.
Despite Lily's friends living in Ponyville, she would rather find her own place. A simple place she can set up a business as a proper Biomancer, serving medical, cosmetic, and utilitarian needs, all the while acquiring the one thing she never had but always wanted. A loving family.
She'll get that and more, but unfortunately for her, she chose to get those things in the Weirdness Magnet that is Ponyville.
---
Featured on Tuesday, February 2, 2016 at 02:38:52 AM UTC.


And again on Thursday, February 4, 2016 at 09:15:11 AM UTC.


And yet again on Friday, February 12, 2016 at 6:42 AM UTC


And once more on Tuesday, February 16, 2016 at 8:34 AM UTC


Apparently featured every time I upload... Huh. Cool!
Okay, seriously, every chapter thus far (to 8) gets featured. What did I do!?
---
For my fan's convenience: This story takes place in an alternate timeline of the Equisverse. No storyline beyond that of The Bridesmaids, Horseshoes, Dinner at Ravenloft, The Queen is Dead, All Hail the Queen happens or will happen in this timeline. However, some world events, elements of the setting, and concepts from other works of mine apply, but this only pertains to foundational concepts such as thaumaturgic current. This is the more "serious" timeline.
Chapters (25)