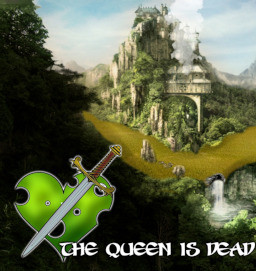 Source
[First Person] [Alternating Perspectives] [Equisverse Era 1]
(Gore tag is for descriptive combat scenes.)
Many years after the changeling attack on Canterlot, in a land far from Equestria, Chrysalis Swarm returned to it's former strength. The swarm of vicious bandits cut a swath across the land with twice the cruelty of the time before their defeat. Countless cities, towns, and even other changeling hives fell to their cruelty and lust for power.
Amongst them was the Diamond Hive, a peaceful people of ancient and storied past. The only survivor of her people's slaughter is a young changeling scout named Jade. With nothing save a satchel of emotion-charged stones, her mother's sword, and a map in the form of a riddle, Jade must now journey to the one place Chrysalis's was unable to terrorize, Equestria.
The Kingdom of Equestria, a place thought to be nothing more than myth. A place where the streets are made from gold, for the very sun and moon make it their home. Only there can safety be assured, and only there can a changeling find enough love to enter her final stage of development, become a queen, and ensure her people survive once more.
---
Featured on Friday, September 25th, 2015 at 06:33:29 PM UTC.


and again on Thursday, November 19th, 2015 at 01:05:13 PM UTC.


and yet again on Tuseday, January 12th, 2016 at 08:26:19 AM UTC.

---
For my fan's convenience: This story takes place in an alternate timeline of the Equisverse. No storyline beyond that of The Bridesmaids, Horseshoes, and Dinner at Ravenloft happens or will happen in this timeline. However, some world events, elements of the setting, and concepts from other works of mine apply, but this only pertains to concepts such as thaumaturgic current. This is the more "serious" timeline.
Chapters (36)