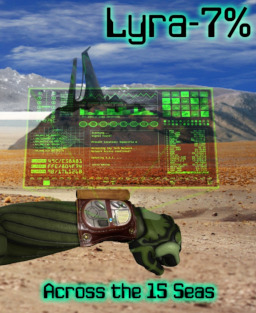 Source
[First Person] [Alternating Perspectives] [Equisverse Era 1]
In the year 2199, artificial intelligence has advanced to the point where it is no longer practical to have human pilots. This puts Lyra Heartstrings into a forced retirement. Or rather, it puts Lyra from Earth number 7 into retirement. A Lyra born in the extremely distant past before Equestria as human. Lyra 7, an anomaly of the multiverse.
This Lyra is given the chance to pursue the life of adventure she always wanted when her 'forced retirement moping' is interrupted by the arrival of an experimental piece of technoarcana capable of opening portals into other dimensions. Unfortunately for Lyra 7, it's broken, and her tinkering can't totally fix it. Unable to set her own destination, or fully charge the device and thus unable make more than one portal per charge. Lyra can only wander from universe to random universe in search of the pony (and the proper version of that pony) who made the Vortex Manipulator in order to find her way back home.
---
Featured on Monday, April 25th, 2016 at 07:06:21 AM UTC.


And also on Friday, July 22nd, 2016 at 09:02:52 AM UTC.


And also on Sunday, August 28, 2016, 2016 at 07:37:21 AM UTC.

---
For my fan's convenience: This story takes place in multiple incarnations of the Equisverse. Keeping track of what is and is not cannon to it is futile. All of my stories are canon to this, as this story happens 'episodically' in multiple Equestrias. It's a dimension hopping story. However, this is being done in the more serious tone of Beta, the more "serious" timeline.
Chapters (33)