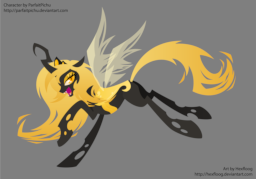 Source
This story is a sequel to A Changeling Named Sin
---
After three years of running and fighting for not only her life, but the ones she is trying to protect, Sin is forced to train and perfect her abilities. Acid, a threat to all of Equestria looms over the land seeking to destroy the world as he pleases. It seems Sin is the only Changeling possibly strong enough to defeat him. With no signs of other Evolvers around, will this distraught mare be able to cope with the maddening effects of solitude?
*In this story, the changelings are based off of Season 2, so it's as if they've never given love freely. Sept 4th, 2017
Edit: Due to complications with the ongoing story - no direction for it to go off of - it has been cancelled.
Chapters (10)