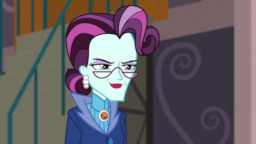 This story is a sequel to Before the Friendship Games: Dean Cadance
---
Principal Abacus Cinch is the Headmistress of Crystal Prep Academy, and there's nothing she won't do to ensure victory for her school. Even if some would call her methods... amoral.
Eighth and final book of Crystal Prep Chronicles: Before the Friendship Games.
Part of "Not Just Any Old Continuity", which includes
Not Just Any Old Trilogy
The Anon-A-Miss Saga
Check out all of my stories here!
Chapters (1)