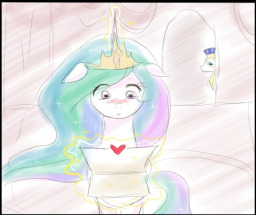 My name is Artemis, I was sworn in as Princess Celestia's personal guard quite some time ago. I've watched her for so many years and silently stood by her side during all the recent ups and downs of her reign. Now I'm going to tell her how I feel. I know it would never work, we're just too different. But sometimes, there are things in a stallion's life he just has to do, and things he has to get off his chest.
What happens tonight will be anypony's guess, but one thing is for certain... it will be a night to remember.
Part one of the "To Love" trilogy. > Part two can be found here<
Teen for slight language and very mild suggestive themes.
Edited by Darastrix.
Pre-read by Azu and NATOstrike.
Chapters (1)