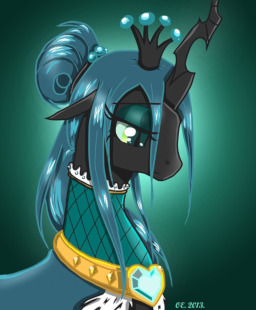 Source
Being in a position of power is never easy, especially if you are the only ruler. Queen Chrysalis discovers this as the broken remnants her subjects begin to wither away without any love to properly sustain them, grieving over their fellow changelings who did not survive the trip home. Their population continues to plummet, and she is left with only one option.
Noblesse Oblige: The duties of those in power to uphold their responsibilities and forsake personal feelings and needs.
Edited by Darastrix.
Pre-read by Azu.
All image credit goes to yula568. Cover was used with permission.
Chapters (2)