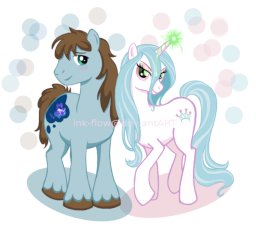 At first, Chrysalis loathed him; the dumb-as-a-brick woodspony who goes by the name of Evergreen. But through circumstance, he is her only savior. And slowly, she comes to love the simple pony and his way of life. But her life as a changeling keeps holding her back. Will there be a happily ever after for them? Or are they doomed for failure?
*Comments contain massive spoilers!*
Check out the Sequel, Antecedent! http://www.fimfiction.net/story/25117/Antecedent
Cover art by Ink-Flow!
Edited version helped along by Fernin and Burraku_Pansa.
Chapters (16)