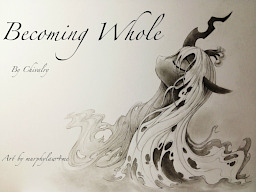 Source
"Monsters aren't born, they're made..."
- C.J. Roberts.
After being defeated by Cadence and Shining Armor, Chrysalis was stripped of her newfound strength and completely starved of food. She awakens in a strange room bound to a bed by several casts and bandages. A young colt found her near his home and tends to her while she recovers, each day bringing them closer and closer.
Can the Queen of Changelings even have true feelings of love, or is she just kidding herself?
Rated Teen for sexual themes, violence, and blood.
Chapters (14)