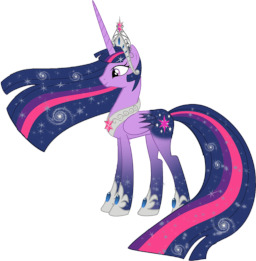 We All know the original story of the TV series My Little Pony FIM. This is a story where Twilight Sparkle is Princess Celestia's daughter and Princess Cadence is Twilight's older sister. Follow Princess Twilight as she goes from being a cute little baby filly to where she comes to a time in her life where she will be chosen to defeat Nightmare Moon, and free her long lost Aunt Luna. She must befriend the mares of the Elements of Harmony in time to defeat Nightmare Moon and save her mother's kingdom from eternal night. How will the events play out with all of Equestria, including the elements of harmony, knowing she's a princess? Well, only one way to find out every pony. Please Read and Comment, and I hope for no flames. This is my first Fimfiction so don't be to hard on me. I do not own any lines or characters from My Little Pony TV series, only OC's I may throw in.
Co-Author: StarStreak96 (many thanks)
Note: Chapters five through eight, and some of chapter nine will be following the episodes one and two very closely, so stay tuned. I also made changes to chapter six, to make it sound more like they treat her like royalty.
Chapters (17)