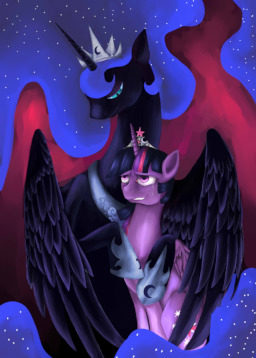 As Twilight and her friends faced off against Nightmare Moon inside the decrepit castle of the pony sisters deep within the Everfree Forest, The mare in the moon strikes first, defeating the element bearers. In an attempt to finish the job Nightmare freezes in action intent to discover the familiar energy hiding underneath the vale of her first victim. What lies underneath could change the lives of both Nightmare Moon and the pony forever.
----------------
In this Story, Nightmare Moon was not neccassery Evil. Also was Celestia here a thousand years ago not the Pony, as we know her.
I didn't hate Celestia. I really like her! This Story is only an attempt for a Story with a diffrent Past as we know it.
Rated Teen for some......"unprincess" like Words from Nightmare Moon and Celestia, maybe others to^^
New Cover art! Made by happyowl
Chapters (2)