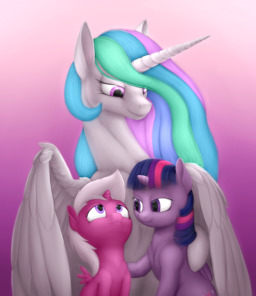 What if Twilight has been lying to her friends all along and her real mother is Princess Celestia herself?
I got the idea while writing Prism and Glimmer. This story is just to dive into what it would be like if Celestia was Twilight's biological mother. (Teen because pissed Celestia does not hold back on language. Romance tag for some Lunestia).
Original chapters can be found here.
Edited by: Knight of Cerebus
Currently being rewritten
Coverart by ZippySqrl
Chapters (4)