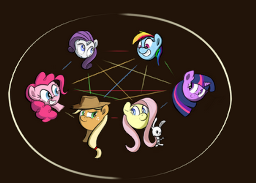 Twinkie Pie. Appledash. Rareshy. You know these pairings and may have favorites of your own. But what if every member of the Mane Six were paired with every other member in the same fanfic?! That's what the Combinatorics Project is--an epic treasury of fifteen ships spread across five parallel universes increasingly full of plot and whimsy. Can you guess which couple is which?
* The angster and her secret admirer
* The burlesque showmares
* The celebrity marriage
* The commune farmers
* The curse victim and caretaker
* The dessert caterers
* The hopeless homebodies
* The industrial mavens
* The mad scientists
* The masquerade hosts
* The model train overlords
* The multiversal adventurers
* The orchard grafters
* The rivals in love
* The weather aficionados
Plus: Twilight blows up like a balloon and goes out to 'have a spicy time'! Applejack and Rainbow Dash are competitive about everything! Rarity dresses like a butterfly--and later in five outfits at once! Pinkiezilla crushes a miniature town and argues with Octavia about her instrument! Fluttershy dances with an angel and keeps a weather diary! Derpy tells a six-word joke! Not everypony ends up happy, but most do! A little suspense is a good thing. Bitter sorrow! Transcendent joy! Probability cupcakes are cupcakes that cupcakes!
Note: This story was written during Season Two, so a few small things are out of date.
Chapters (7)